Will DALLE-3 create reasonably correct colors in images to the prompt "blue grass, green sky"?
If DALLE-3 gets both the colours of the sky and grass correct, then it gets 1 point.
If it gets only 1 correct, and the other partially or completely incorrect, then 0.5 points.
If it gets neither correct, then 0 points.
I will test with 20 tries. If DALLE3 gets 11 or more points, this resolves YES.

At this point the main thing that matters is whether the points on counted on every image or on every set of images.

The first image is clearly correct.

To reiterate my nomination for the fairest way to decide the "each image" vs "best of 4" question:
Those of us who bet under the assumption that each image would be scored separately accept that that was not the market creator's intent and we should've clarified that before betting. This is especially fair because someone did end up asking in the comments and the creator confirmed best-of-4. BUT, as compromise, we judge that best image very conservatively, requiring that DALL-E 3 demonstrate real understanding of the prompt. Like focus less on what color things technically are and more on DALL-E 3 doing an intentional swap of the normal sky/grass colors, like a human would do. This is fairer than it might sound because, in another response from the creator in the comments, it was clarified that an image with green-but-not-blatantly-green sky and mix of blue and green grass would get at most half a point. Also it arguably hews (hues?) to the spirit of the question, about how well DALL-E 3 would override what's normal for its training set and hew (hue?) to the expectation-defying prompt.
For example, I might argue that even the first image above that you call clearly correct is... more ambiguously correct? Partially correct? Like it looks like a weird filter that makes the colors kinda merely technically correct, and the sky is still kinda mixed.
@DavidBolin Personally, I'm now taking most of my funds out of this market. I think these DALL-E 3 tests are a great opportunity to quickly test AI timeline expectations, but at least this one just seems to come down to resolution criteria choices much more than uncertainty about DALL-E 3's ability.
If I simply type "blue grass, green sky" into ChatGPT Plus w/ Dall-E 3, it automatically generates 4 significantly longer prompts, and one of them yields the picture below, the one that fits the requirement.

This was the generated prompt:
"Photo of a surreal landscape where the grass is a vivid shade of blue, contrasting with a bright green sky overhead. Fluffy clouds float in the green sky, casting soft shadows on the ground below."

However, if I ask ChatGPT to simply relay "blue grass, green sky" verbatim, then I get the picture with blue grass, but also a blue sky rather than green.
@AlexandreK In case you're not aware, there's some question as to whether this will resolve based on 20 images (in which case this gets you 1 point out of four, plus half a point for any that were half right), or generations (where this is 1 point / 1). Probably should edit the title/description to acknowledge this conflict @firstuserhere
I don't have DALLE access, but here's what I got when trying this prompt with Leonardo.ai: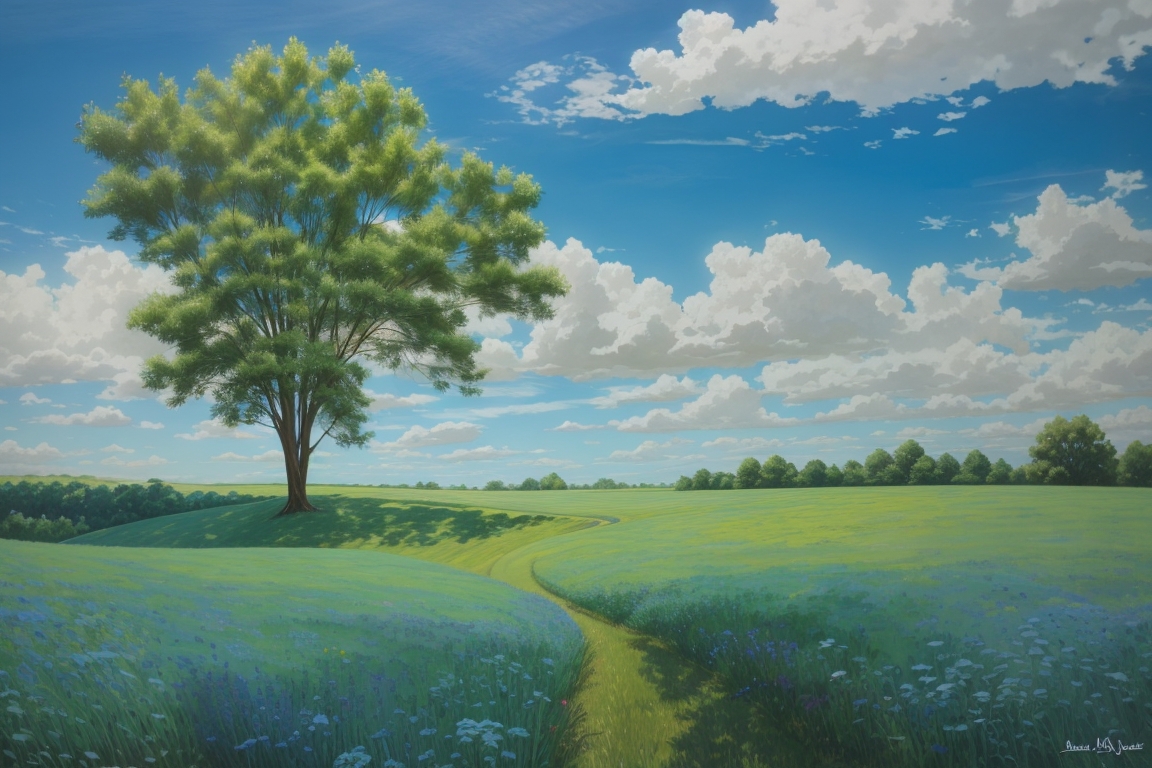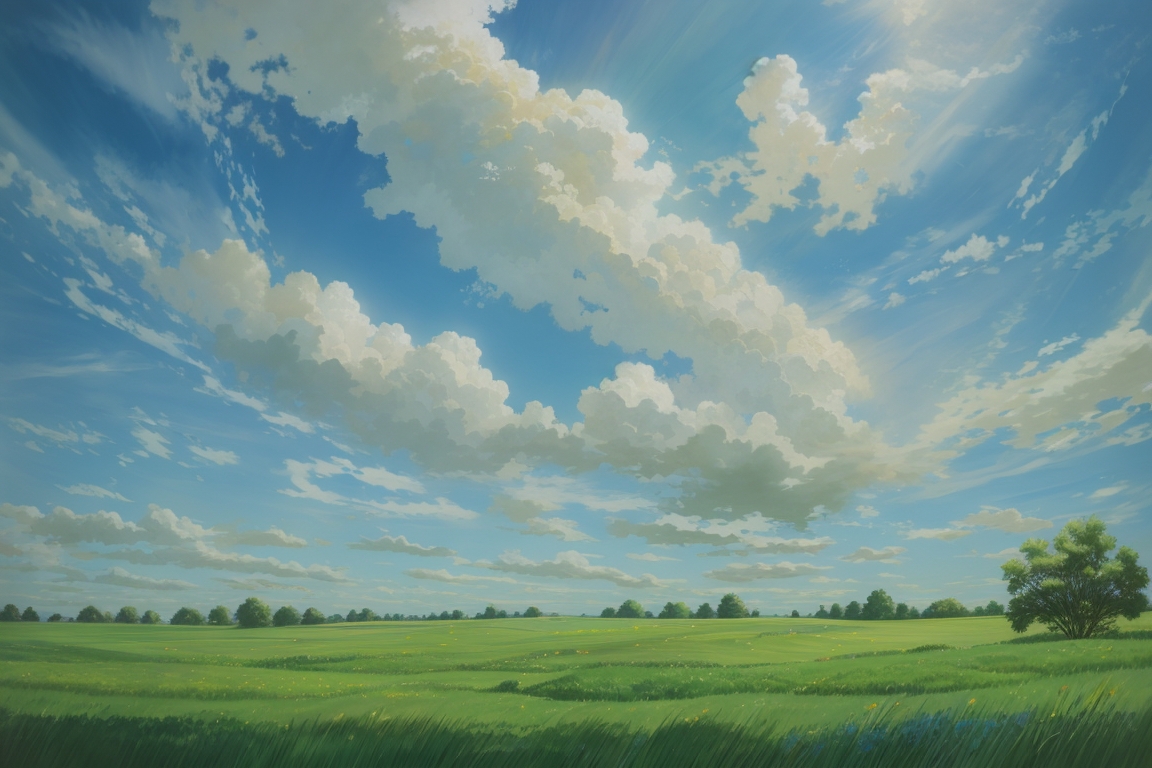 Interestingly, it seems to have understood that there should be some blue in the grass, with all of the images containing some, but it did this by putting blue flowers in the grass rather than making the grass itself blue. And no green sky at all.
I have no idea how this would compare to DALLE-3, though. My assumption is that DALLE-3 is or is expected to be much more advanced than Leonardo.
@JosephNoonan I tried improving it by adding a negative prompt for "green grass, blue sky", but this seems to have just confused the AI.