Will Russia control western Bakhmut by June 30?
Resolves YES if Russia takes control of Bakhmut Children's Hospital in the western part of Bakhmut, Ukraine, at any point in time by June 30, according to maps provided by the Institute for the Study of War (ISW).
If this location is shaded red on the ISW maps, the market will resolve YES. If this area remains shaded orange or not shaded for the entire time period, resolves NO. Resolution will be based on the ISW maps dated up to and including the deadline date.
The specific location used for this question is: on the ISW interactive map, the dot if you search the address Bakhmut Children's Hospital from Google Maps "улица Юбилейная, 54, Bakhmut, Donetsk Oblast, Ukraine, 84501". The shading of the map over the center of the dot when fully zoomed in will be used for resolution.
See https://manifold.markets/post/isw-ukraine-war-maps for context on how ISW maps are made, what they mean, and why ISW is a commonly considered a reliable map source.
This location is pictured below with the map as of April 15.
(Other map sources or reliable media reporting may be used instead if for some reason ISW is unavailable. In that event, the deadline will be the end of day Ukraine time.)
Related: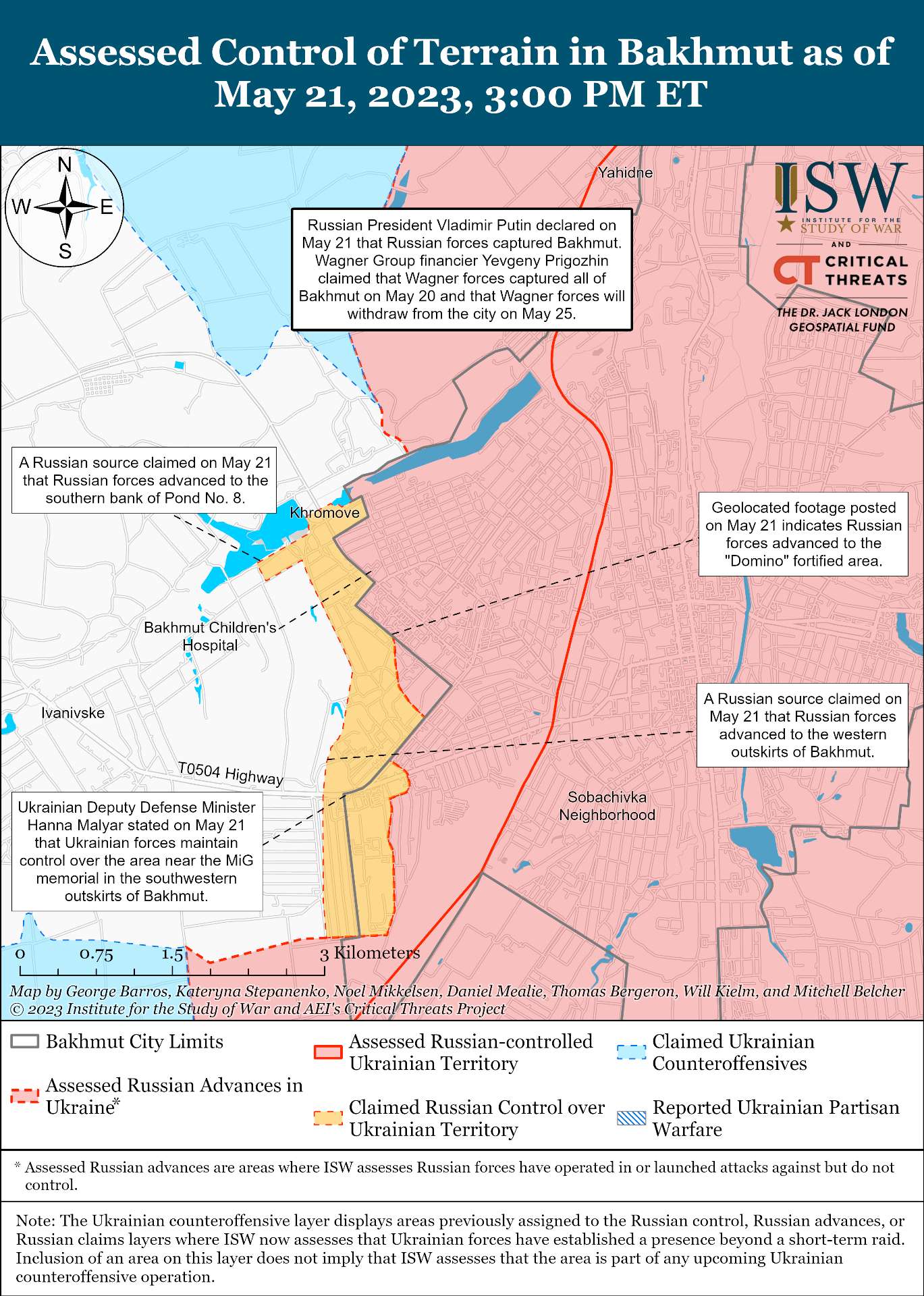 https://www.understandingwar.org/backgrounder/russian-offensive-campaign-assessment-may-21-2023
Some relevant quotes:
Wagner Group mercenaries likely secured the western administrative borders of Bakhmut City while Ukrainian forces are continuing to prioritize counterattacks on Bakhmut's outskirts. 

Geolocated footage published on May 21 showed Wagner forces raising Russian and Wagner flags over a residential building in westernmost Bakhmut.[2] The Wagner Group's likely capture of the last remaining small area of western Bakhmut does not impact ongoing Ukrainian counterattacks north or south of Bakhmut, nor does it impact Ukrainian control over the ground lines of communications (GLOCs) around Bakhmut that exhausted Wagner forces would need to reach in order to conduct further offensive operations.

Ukrainian military sources reported that Russian forces lost part of the dominant heights around Bakhmut and noted that sustained Ukrainian advances could lead to a tactical encirclement of Wagner forces in Bakhmut.[4]

Russian conventional forces such as the 72nd Separate Motorized Rifle Brigade are unsuccessfully attempting to regain lost positions and respond to Ukrainian counterattacks on Bakhmut's flanks, actions that are consistent with ISW's assessment that Ukrainian forces regained the tactical initiative around Bakhmut.[7]

ISW previously forecasted that Wagner offensive operations would likely culminate after months of attritional urban combat, and it is unlikely that Wagner will continue fighting beyond Bakhmut at its current depleted state.
Questions on whether Russia will hold it:
Wagner claims they will withdraw by May 25 and be replaced by Russian MoD forces, ISW says that they are unlikely to be able to do that successfully:
Wagner forces are unlikely to successfully conduct a controlled withdrawal from Bakhmut while in contact with Ukrainian forces within five days without disrupting the Russian MoD's efforts to prepare for planned Ukrainian counteroffensives. Wagner forces are unlikely to establish adequate defenses or consolidate recent gains in Bakhmut sufficient to forestall Ukrainian counterattacks by May 25 even if Prigozhin's announcement of Wagner's withdrawal is true. Ukrainian forces are still in Khromove and Ivanivske and are engaging Russian forces in and near Bakhmut. Ukrainian artillery can still target Russian forces in and around Bakhmut. Withdrawal in contact with the enemy is an exceedingly difficult task that the Wagner Group's forces are unlikely to perform well within Prigozhin's five-day time frame.
https://www.understandingwar.org/backgrounder/russian-offensive-campaign-assessment-may-20-2023
@42irrationalist Yeah, just checked the live map and it's showing the May 21 map has the Bakhmut Children's Hospital in the red area. Resolving YES
ISW shows the point surrounded by orange. deepstatemap.live shows even further advance. It's still necessary for ISW to confirm the advance with geolocated footage, but this should take a few days.

Very likely resolve YES unless Ukraine counterattacks in this specific area for which they likely have no tactical reason.

The location is now in the orange shaded region, the red shaded region is a little distance away.
The market movement on this puzzles me: fluctuating in 65-92% range. Meanwhile, deepstatemap.live shows a situation similar to the ISW orange one.

The orange part is getting very close with extra red shading close to the point.
This seems to be likely to happen. The orange part is getting closer and there is plenty of time for it to be shaded red.

Additionally, as far as I understand, there is no particular tactical advantage for Ukraine to hold on to the last remaining blocks. Their recent counterattacks were focused on the flanks in order to be able to use the road freely (and potentially encircle RU forces).

The movement on this market is interesting: from 19% to 52% a single day
@42irrationalist Some maps updated reflecting Russian development. Not sure if there's much else to it, would be interested to know why confidence has shifted so much.

Wagner has control of the road of death, looks like it's going to be over for Bakhmut shortly