Will Destiny stream longer than 5 hours on March 15th?

Sir Cryptomind
Need 3 hours 43 minutes 17 seconds (Unless he stops and starts a 3rd stream, which he has done before).
Sir Cryptomind
Stream 1 of ? = 1:16:44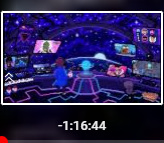 Victory_VIJAY
predicted

NO

at 40%
@Victory_VIJAY or Multiple streams do count if added together and is cumulatively longer than 5 hours-so No then ?

Sir Cryptomind
The first short stream will count and added to any additional stream if he streams again.
He can stream as many streams as possible and they would all add up to be cumulative as long as it starts today.
I am in the same time zone as Destiny, so my close time is the latest possible he can start another stream, 11:59pm EST 03/15/2023.