Will Russia's Wagner Group pull out of Bakhmut, Ukraine by the end of May?
The market resolves Yes if Yevgeny Prigozhin, the Wagner Group boss confirms that they are withdrawing from Bakhmut and actually leave the city.
Russia-Ukraine live: Wagner forces begin Bakhmut 'evacuation' | Russia-Ukraine war News | Al Jazeera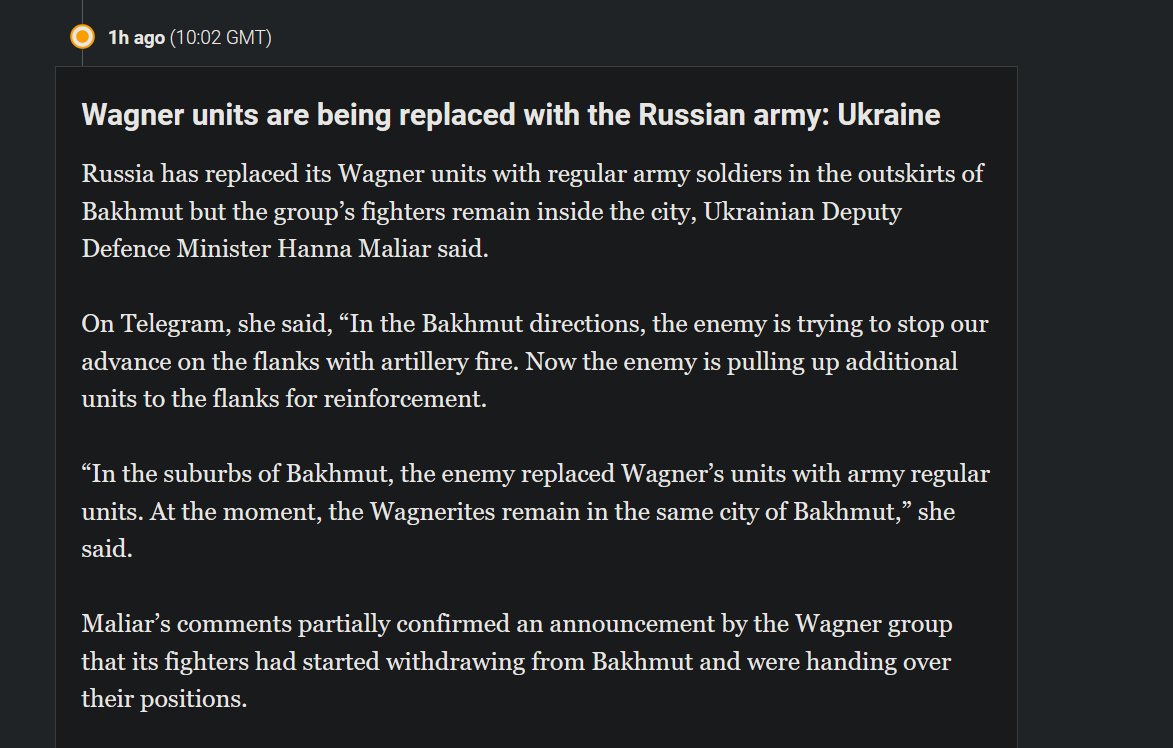 the Ukrainian Deputy Defence Minister Hanna Maliar saying that wagner units are getting replaced by army

If the pull out is mostly done by the end of the month, but it officially ends by June 1 (which seems likely), how does this resolve?
@ShadowyZephyr I bet on this thinking that if they have substantially reduced their footprint or are substantially in the process of withdrawing their presence. I hope that's how it's interpreted.
The question is whether Wagner's troops will they pull out by the end of May. If they start the withdrawal process on May 25th to June 1st, does that count as leaving by the end of May? Or is that considered the beginning of June and the market resolves as no? Or does the market resolve as yes regardless of when they finish the withdrawal, as long as they start it on May 25th?

@higherLEVELING Sorry, I didn't see this comment, this is essentially what I was asking. Is it about averaging the start and end dates, the official end date, the date when most troops have left, or what?
Another part of the ISW update states:
Wagner forces are unlikely to successfully conduct a controlled withdrawal from Bakhmut while in contact with Ukrainian forces within five days without disrupting the Russian MoD's efforts to prepare for planned Ukrainian counteroffensives. Wagner forces are unlikely to establish adequate defenses or consolidate recent gains in Bakhmut sufficient to forestall Ukrainian counterattacks by May 25 even if Prigozhin's announcement of Wagner's withdrawal is true. Ukrainian forces are still in Khromove and Ivanivske and are engaging Russian forces in and near Bakhmut. Ukrainian artillery can still target Russian forces in and around Bakhmut. Withdrawal in contact with the enemy is an exceedingly difficult task that the Wagner Group's forces are unlikely to perform well within Prigozhin's five-day time frame.
https://www.understandingwar.org/backgrounder/russian-offensive-campaign-assessment-may-20-2023
I assume a handover to regular Russian forces will resolve as Yes. Could you confirm?

@AlexbGoode Only if the handover means that they will no longer be in Bakhmut.