Will Karpathy publicly express support for Sam and/or Greg on Twitter?
Resolution Criteria
The market resolves positively if Karpathy makes a clear statement of support in a tweet before end of the month. The statement must be unambiguous in its support.
Background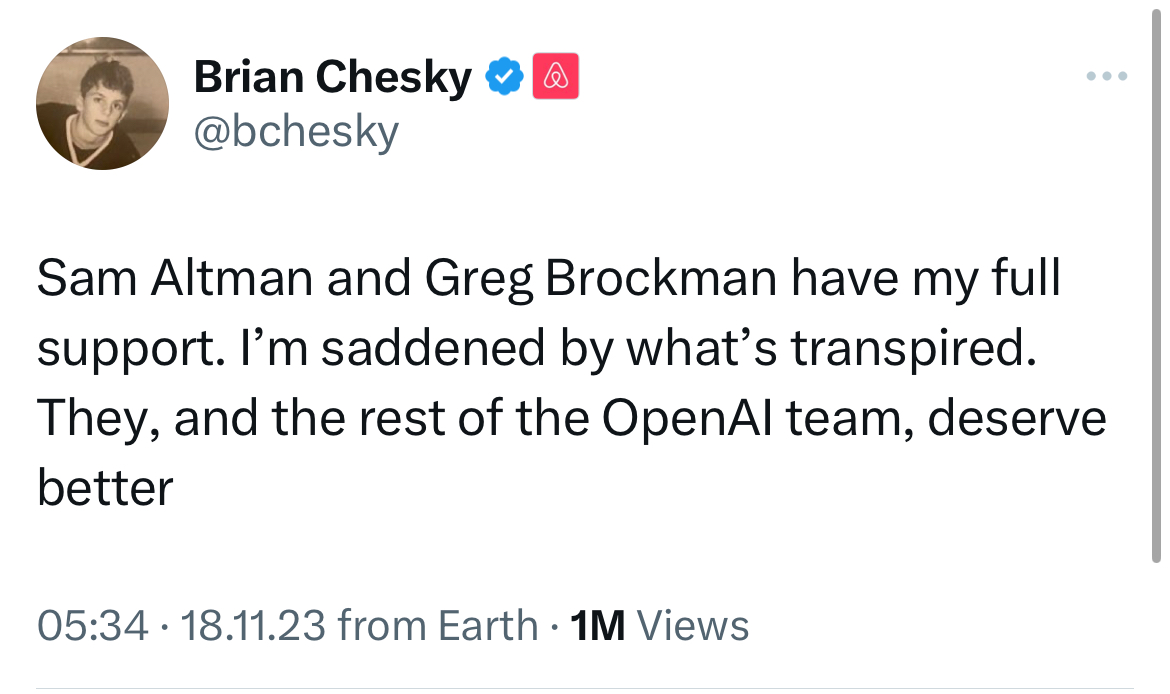 Sam was fired. Greg resigned. Many have spoken in support such as Brian. I wonder what Karpathy thinks. The reason I care is because I trust Karpathy more than Sam or Greg. I also believe that all four of them were actually vital to the creation of OpenAI.
Recommended Markets
Resolving this Market
I created this question on the 18th of November while wondering what Karpathy thinks of the OpenAI situation. My assumption was that due to the nature of his work, Karpathy might be working closely with Ilya at OpenAI and will therefore have a better understanding of his view than most (assuming Ilya played a role in the attempt to oust Sam out of OpenAI). I tweeted the following on the 19th:




Then someone replied to me with the following:


I checked Karpathy's likes tab and found the following tweets:


Then Karpathy responded to my tweet saying:


I believe this question should resolve as 'Yes'. Karpathy's statement, "I like and respect Sam," is a clear support of Sam. Additionally, his negative comments about the board reinforce this support. This statement alone suffices for a positive resolution. Moreover, considering his other actions, like his likes and retweets, further solidifies this viewpoint. Also, I read the comments and I want to remind everyone that the question says "Will Karpathy publicly express support for Sam and/or Greg on Twitter?". Karpathy clearly expressed support for Sam Twitter.


My model of him is that he pretty strongly supports sama and gbm and their side of the drama but since the drama is likely slowing down/coming to a temporary close there won't be a need to make a tweet showing explicit support (til the end of the month anyway) but not sure. Like maybe he will tweet in a week 'wow that was really a silly bit of drama, glad the altman side handled it well'; would that resolve YES? Still seems unlikely to happen

@Asher Because of the retweet of the Vinod Kholsa article? I don't think retweeting an article implies endorsement of a passing sentence about Sam being focused on "making the world a better place"

@CalebBiddulph he tweeted something at the start of this, which is now deleted, starting his tweet with "I love and respect sam." Seems pretty clearly like expressing support to me; the market probably should've resolved then. I don't know why they are waiting, im kinda confused
He retweets the Vinod Kholsa article on how "OpenAI's Board Set Back the Promise of Artificial Intelligence"
founders like Sam Altman—who face risk head on, and who are focused—so totally—on making the world a better place.