Will CAC 40 close higher november 22th than the close of november 21th? (Daily Market)
CAC 40 closes 6PM MEZ.
Predictions ends 1 hour earlier.
---
Previous close: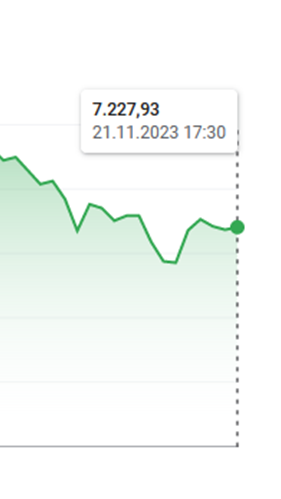 ---
Resolves according to the display at https://g.co/finance/PX1:INDEXEURO at the end of the day.
Resolves NO if closes Flat (Same Close Price As Prior Day) regardless of color of % & Chart on Google Finance as the close value is the final decider and will be confirmed by second and/or third source based on Historical Data If Needed.
If Google Has A Visual Error (eg. Green chart/negative closing price ; Red chart/positive closing price) This Will Resolve To The Closing Price Of Majority Same Numbers Reported By Yahoo/Marketwatch/WSJ/CNBC
---
Trading in this market counts towards the @SirCryptomind Q4 Mana Leaderboard.
DASHBOARD (General Info, Top 10 Prize Info, Bonus Mana Rewards Info, etc.)
I DO NOT PARTICIPATE IN MARKETS I CREATE