This market will resolve to Yes at Nov 25 7pm ET. Max position 20Ṁ per person please.
If any human participant placed bets over 20Ṁ in this specific market, I reserve the right to resolve the market to a No and compensate all other participant via tip. (You are free to place more bets on other markets of the same name)
🏅 Top traders
I have invested 21Ṁ into yes. Somewhat related: I don't think these kind of markets are bringing a lot of value to this site. It seems to mostly be an attempt to take advantage of the mana you get from the unique traders bonus. I think people should not abuse the system in this way.

@harfe But prediction markets are all about finding ways to abuse the system!
I agree this type of market is annoying, but I think prevention of them should be done by clear rules from the Manifold admins, not fuzzy social norms.

@harfe Also note that as long as they're in the right group, I believe you can set your homepage to ignore them.
@harfe @IsaacKing I'll be more careful with my group that so that people who wants to ignore this market can ignore it going forward


@dailyreward You don't seem to be careful at all
@Yev hmmm somehow my tag get voided and they automatically assigned me the politics tag...

I'll work on fixing it
@Yev wait they looks fine on my end?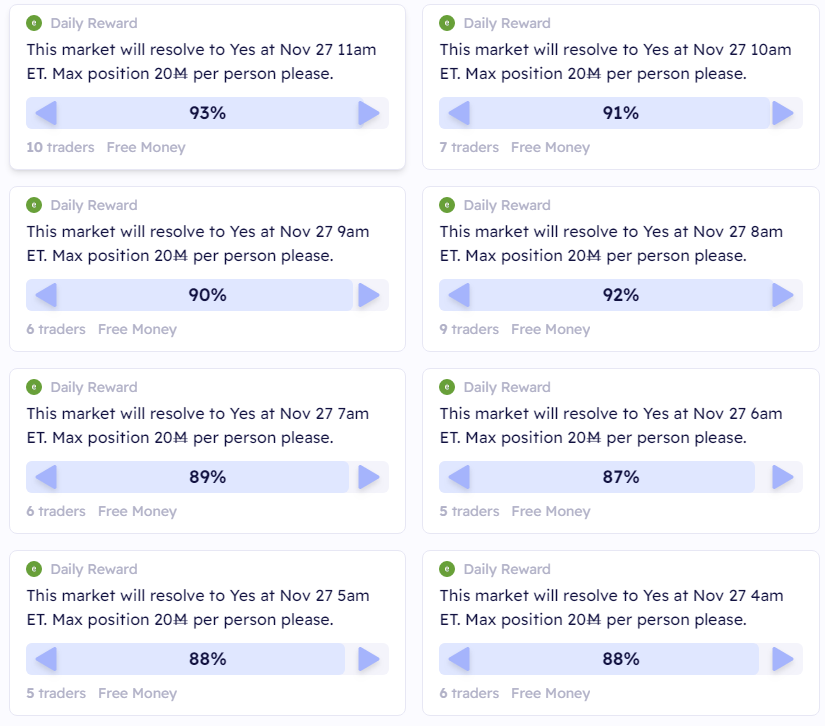 @dailyreward Yes, because I went through all of them and fixed them 😉
This market will resolve to Yes at Nov 25 7pm ET. Max position 20Ṁ per person please., 8k, beautiful, illustration, trending on art station, picture of the day, epic composition