Will The Russell 2000 (RUT) close higher on September 19th than it closed on September 18th? [Ṁana Leaderboard]
RUT closes at 4pm ET (8pm UTC) (15 minute delay).
Predictions close at ̶ ̶2̶15p̶m̶ ̶E̶T̶ 1 315pm ET(715pm UTC)
1 Hour EXTRA Past The Normal 2pm ET (6pm UTC) Close For September Only!!
Previous Close:

Resolves YES or NO : According to the display at https://www.google.com/finance/quote/RUT:INDEXRUSSELL at the end of the trading day.
Resolves No If Closes Flat (Same close price as prior day)
If Google Has A Visual Error (eg. Green chart/negative closing price ; Red chart/positive closing price) This Will Resolve To The Closing Price Of Majority Same Numbers Reported By Yahoo/Marketwatch/WSJ/CNBC
---
BONUS : Each Day That Gets 25+ Taders For This Prediction, I Will Add 100 Mana Subsidy To The Following Prediction For This Market.
---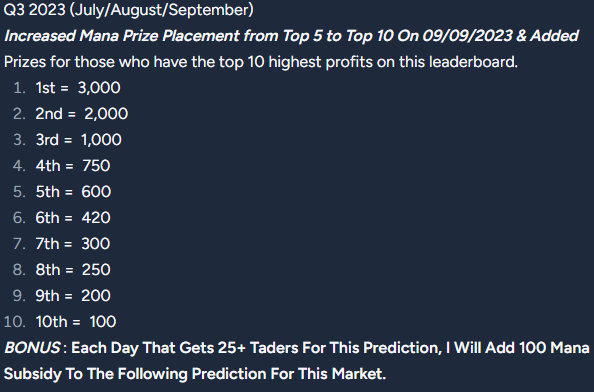 I DO NOT PARTICIPATE IN MARKETS I CREATE
---
For The 4th Quarter & Any Head Start Markets Follow ▲SC-CS-Q4-23▲