Will Twitter Circles be disabled at the end of October 31?
Twitter recently announced that the feature will be disabled by October 31.
The decision was met with widespread disapproval, which might persuade Elon to reverse course.
This market will resolve as 'Yes' if the feature is disabled at 11:59 p.m. EST on October 31, 2023, and 'No' otherwise. Nothing that happens before or after that moment will be relevant.
https://twitter.com/Support/status/1704996222619009211
EDIT: I have answered some questions in the comments that I would suggest reading before betting on this market.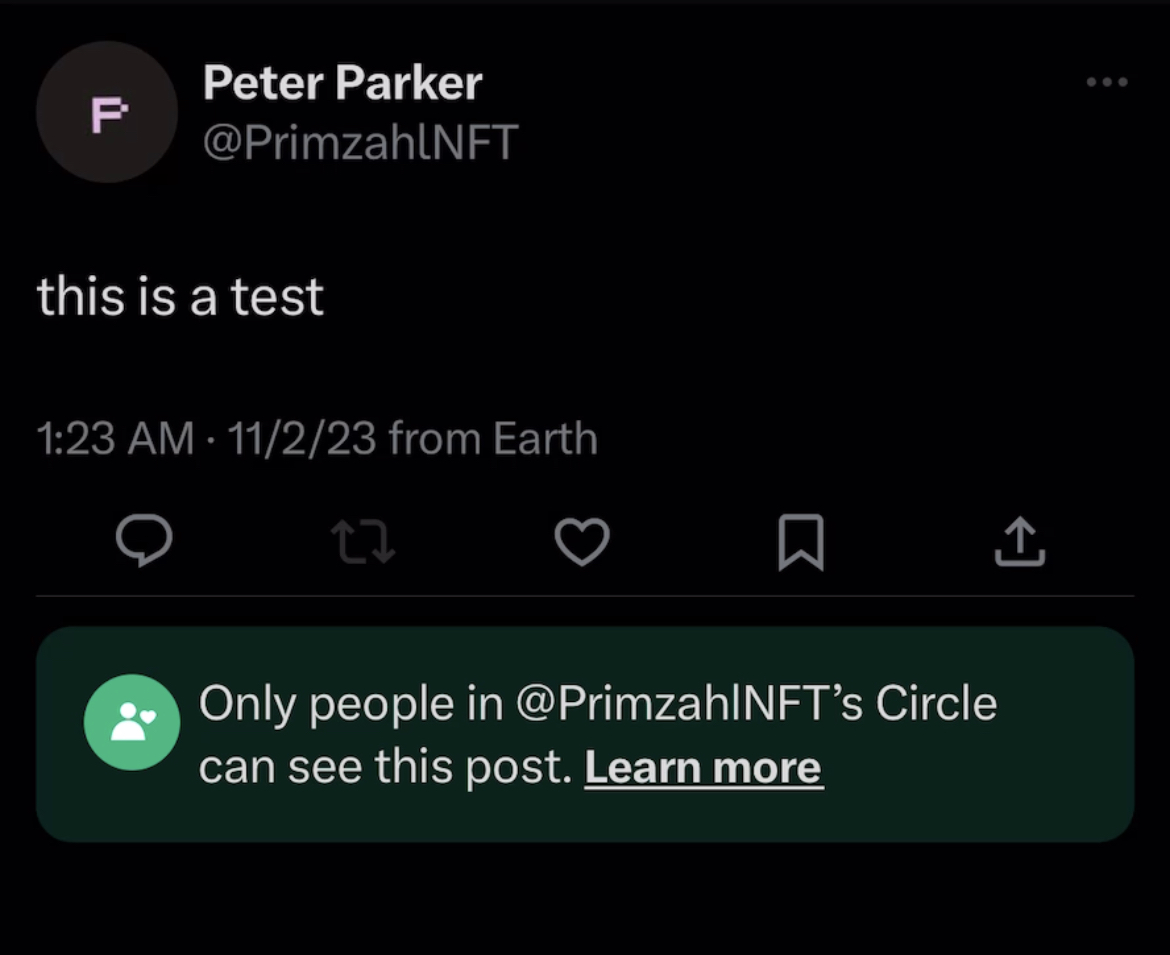 Just for the record, on-app, top level post on circles with a 1:23 AM time stamp (app is set to edt) on 11/2/23
I know market is resolved, but just for posterity.
From what I understand, the Circles functionality still completely exists in the code (hence the old Circles tweets still showing as private, that Chrome extension working, etc.) but Twitter seems to have done all that it practically could to hide it from the user on the date specified. I maintain that this constitutes disability of the feature for the purpose of this market, and therefore warrants a hard Yes resolution.
I do not believe it would be a reasonable interpretation of the resolution criteria to say that the feature is not disabled as the code still exists—Twitter never pledged to destroy all traces of the feature; it said that the ability to create new Circle posts and to add users to Circles would be lost, while there would be a continuing method of removing users from Circles. This implies that Twitter expected old Circle posts to be retained with their original privacy settings after the deprecation date, which in turn implies that the Circles code was never to be deleted.
Additionally, I do not believe that it should be necessary for Circles to have been disabled for every single Twitter user in order to have a full Yes resolution. This is too high a standard for a platform with millions of users, many of whom are not using up-to-date versions of it. There were bound to be aberrations—there always are. To define 'disabled' so narrowly from the beginning would have rendered this market pointless.
However, I recognise the need to balance the opportunity for participants to give input with the need to resolve the market in a timely fashion. The latter is particularly important as the October season is ending soon. With any luck, I will be going to sleep in a few hours, so in the interest of advancing the debate toward a speedy resolution, I will say now that I would not object to a 95% Yes resolution, as it seems plausible that roughly 1 in 20 active users retained Circles functionality at the time the market closed. As already mentioned, I do not believe this should matter, but it is a concession I am making nonetheless. Considering that I have no power here except that of persuasion, such a concession means nothing except that it may move the argument forward.
I trust that KnowNothing's decision, whatever it is, will be a reasoned one.
Most Twitter users use mobile which had Circles functionality disabled long before market close, and at least the majority of desktop users didn't have Circles functionality near/at market close. So I'm really struggling to understand why anyone expected the market to resolve less than 90%…
Whichever % of resolution you choose, would you be able to resolve it by 11:59pm PST tonight?
@yawnstantine is the reason you want it resolved by then that you want to invest back the money? because if liquidity is all you want, i can give you a no-interest loan that you could pay me back after the market closes.
reason i'm reluctant to close right now is that I'm aware thaat plenty of people were asleep at market close, so I want to give them a chance to give input and provide evidence before making a final resolution.