Will Oppenheimer and Barbie perform historically well at the domestic box office on opening weekend?
Specifically, will Barbie and Oppenheimer break the current pareto frontier for the top 2 movies weekend domestic gross sales on their opening weekend?
The current pareto frontier is depicted here: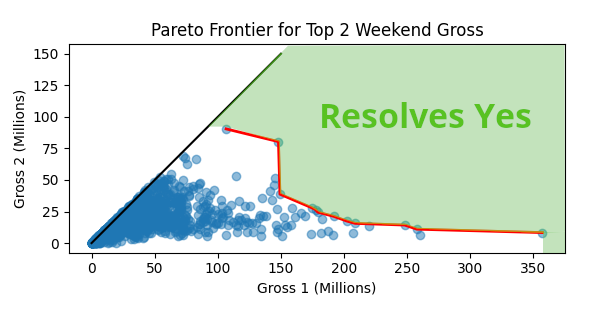 And the data presented in a table:
For example, if both movies open with a box office equivalent to The Little Mermaid ($95.5 M) this market would resolve YES (just barely sneaking in the top left corner!). If one opens at $95M and the other opens at $85M, this point would not surpass the frontier and the market would resolve NO.
The box office data will be sourced from the Domestic tab at https://www.boxofficemojo.com/weekend/
If Barbie or Oppenheimer change their release date such that they do not open on the same day this market will resolve ambiguously.
given my profit graph these days it feels good to have called this! esp as a non-film buff just going on subjective sense of how much people were talking about barbenheimer

I see 155, 80.5 which puts us squarely in historic territory for a YES resolution. I will resolve when the numbers on Box Office Mojo are no longer marked as estimates.